BTCWA Champ Show November 2018
THE BULL TERRIER CLUB OF WESTERN AUSTRALIA INC
10TH NOVEMBER 2018 - Championship Competition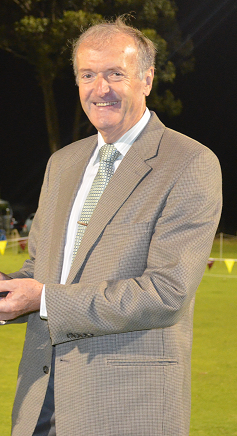 JUDGE: Mr DAVID ALEXANDER (USA)

Many thanks to the Bull Terrier Club of WA for your great hospitality and thoughtfulness which made our time with you so enjoyable. We had a great time at the show and at the 'Meet and Greet'. We particularly appreciated the composition of your logo for the event, since it included references to our backgrounds in the theme. I was particularly pleased to receive the inscribed 'plinth' as a gift. I enjoy these as reminders of the shows, and this one will have very pleasant memories.
Before I get to the critiques, a few general observations. Both while judging and while reviewing my notes, I repeatedly saw consistency in several features - length of head, soundness of construction and movement, and height. These are all positive elements that deserve comment and for which you, as breeders, are to be commended.
Length of Head: There is a current trend towards shorter foreface in the breed so that heads, while well-filled, are becoming more triangular rather than ovoid in shape. I kept remarking on the pleasing length of head in the exhibits, so I was pleased to see that you are avoiding this trend in your breeding as evidenced by the entry at the show. Good length of head is a characteristic worth preserving.
Construction and Movement: Likewise, there were many exhibits that demonstrated correct construction with sound movement. While sound front construction, with well set shoulders was frequently in evidence, I was particularly pleased to see strength in thigh muscles allied to well-turned stifles. To me, this is an important feature fundamental to our breeds' original purpose. Kudos for paying attention to this disappearing trait.
Height: It would be remiss of me to not comment on my 'soap box' issue of height. It was increasing height particularly on the part of several Australian bred dogs that prompted my research and subsequent article on this topic back in 2006. I was therefore very pleased to see that this trend has not continued and that the dogs shown on this occasion were of an acceptable size. Continued vigilance is required however. To be clear, this does NOT mean breeding dogs of less substance; it means restricting the height of our dogs so that their terrier nature is not lost.
You are fortunate to have such a great facility for your show, and in general the quality of the dogs matched the venue.
Thank you to all the exhibitors who made my judging experience very enjoyable.
BABY PUPPY DOG

1ST – Doug McKenzie – CREDEM DEVILS SPY (AI)
2ND – S & B Ralph – SHADBRAYE THE EQUALIZER

PUPPY DOG

1st – L Lovett: HUATARE STILL I RISE
JUNIOR DOG

1st – L Lovett: HUATARE THUGZ MANSION
INTERMEDIATE DOG

1st – Dave Barrett: BRIMINIE PLATINUM
2nd – S & B Ralph: SHADBRAYE DEVILS SPAWN (AI)
STATE BRED DOG

1st – Mrs J Viggers & Miss J Beveridge: CH CYCLOP MASTER MCKENZIE (AI)
2nd – Mr S Honnery & Ms N Sharrett, Mrs L Taylor: HONHAZSTA TAYLOR MADE
AUST BRED DOG

1st – S & B Ralph: SHADBRAYE KID ROCK (AI)
OPEN DOG

1st – Mr T Matsen & Mr R Balsillie: SUPREME CH SATORI MAGIC MIKE ROM
2nd - Vanessa McDonald: WILOU HEAVENLY BUSINESS (AI):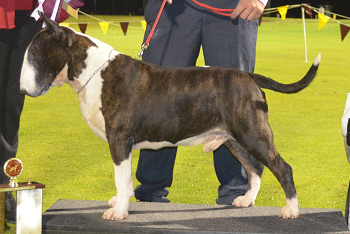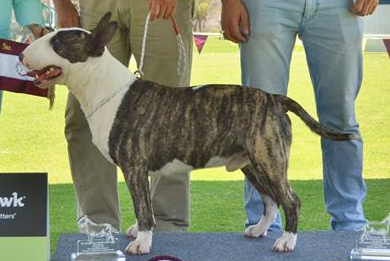 Challenge Dog Reserve Challenge Dog
SUPREME CH SATORI MAGIC MIKE ROM BRIMINIE PLATINUM
BITCHES
BABY PUPPY BITCH

1st - S Leitch: WESTBUL FEYRE LASS
MINOR PUPPY BITCH

1st – N A'Court : FABNIC LADY DAISY DEVIL
2nd - N A'Court : FABNIC LADY JULIMARS HURRICANE
3rd – David Barrett: BRIMINIE GI JANE
PUPPY BITCH

1st – Mr T Matsen & Mr R Balsillie: HUATARE SHEZ DA BOM
2nd – Louise Davies: AWWALIA MAGIC I AM
3rd – Vanessa McDonald: BRIMINIE GI JULIS

JUNIOR BITCH

1st - J & B Schofield - STARDOM DEVILS LADY
STATE BRED BITCH

1st - Mrs S F Watkiss - WESTBUL JUSTABLOCH(AI)
2nd - Mrs L Lovett - HUATARE MAIA
3rd - E Harrower & J Beveridge - CH CYCLOP RIVER OF DREAMS
AUSTRALIAN BRED BITCH

1st – Mrs L Taylor - CH. HUATARE LADY KUMANU
2nd – S V Leitch - SUTABUL DAZZLING DELIGHT
OPEN BITCH

1st - Liza-Jane Farkas - APONI EYE SPY (AI)
2nd - N A'Court - CWMTARW LADY RHONDDA ROSE
VETERAN BITCH

1st - S V Leitch - SUTABUL DAZZLING DELIGHT
2nd - N A'Court - CWMTARW LADY RHONDDA ROSE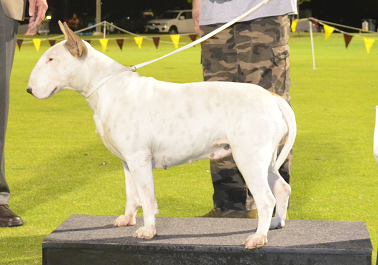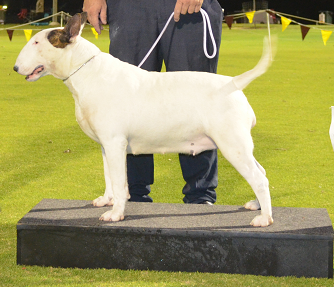 Challenge Bitch
WESTBUL JUSTABLOCH(AI)
Reserve Challenge Bitch
HUATARE SHEZ DA BOM
IN SHOW WINNERS
BEST EXHIBIT IN SHOW - WESTBUL JUSTABLOCH(AI)
RUNNER UP BEST IN SHOW - HUATARE SHEZ DA BOM

BABY PUPPY IN SHOW - CREDEM DEVILS SPY (AI)
MINOR PUPPY IN SHOW - FABNIC LADY DAISY DEVIL
PUPPY IN SHOW - HUATARE SHEZ DA BOM
JUNIOR IN SHOW - HUATARE THUGZ MANSION
INTERMEDIATE IN SHOW - BRIMINIE PLATINUM
STATE BRED IN SHOW - WESTBUL JUSTABLOCH(AI)
AUST BRED IN SHOW - CH HUATARE LADY KUMANU
OPEN IN SHOW - SUPREME CH SATORI MAGIC MIKE
VETERAN IN SHOW - SUTABUL DAZZLING DELIGHT
BEST EXHIBIT IN SHOW - WESTBUL JUSTABLOCH(AI)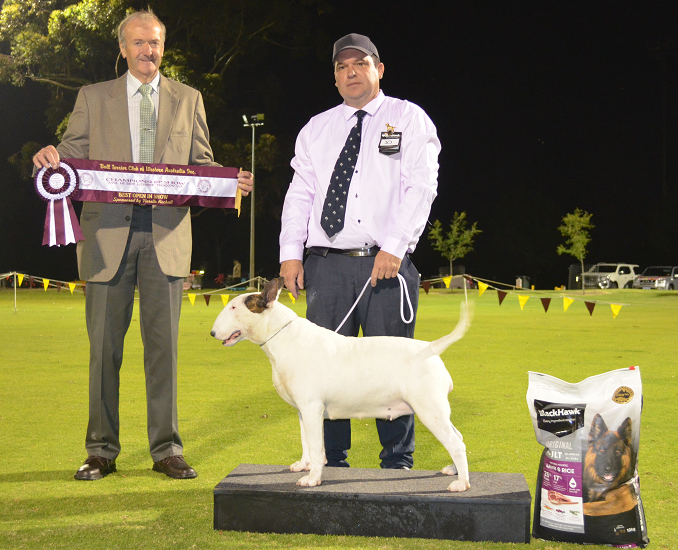 RUNNER UP BEST IN SHOW - HUATARE SHEZ DA BOM